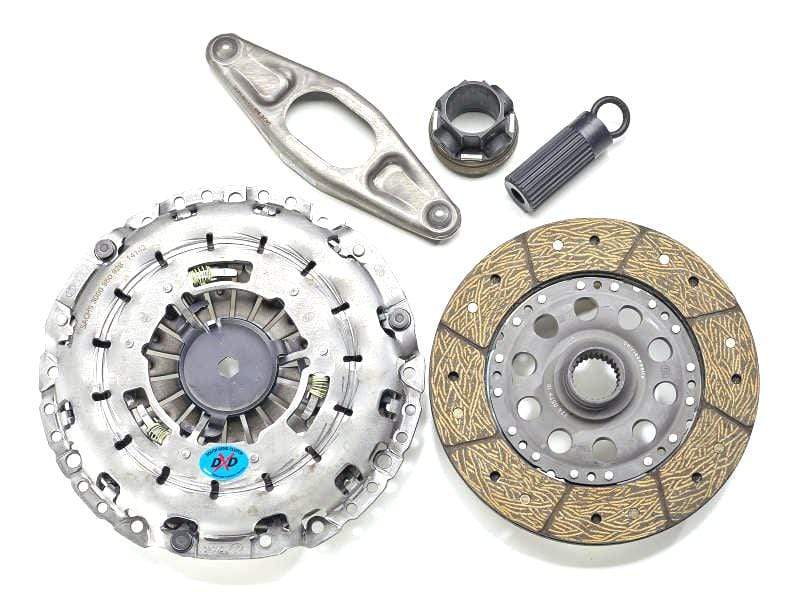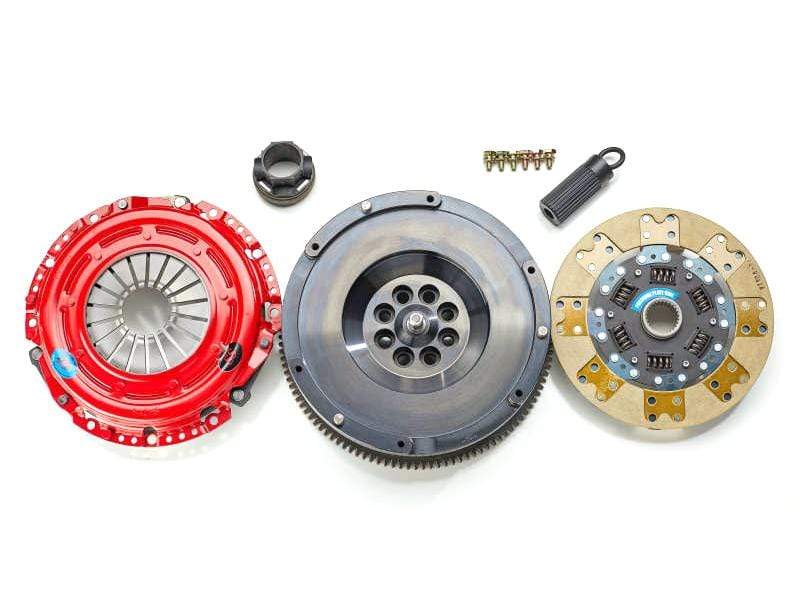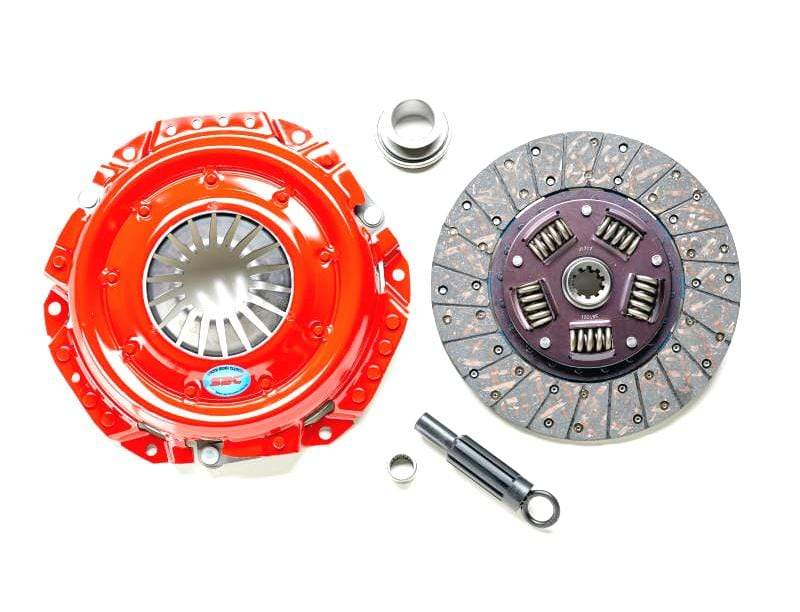 South Bend / DXD Racing Clutch & Flywheel Kit - BMW / E8x 1-Series / F3x 4-Series
Sale price
$855.00
Regular price
$820.00

Product description
Shipping & Return
Local Pick Up
UroTuning is pleased to present South Bend / DXD clutches for your BMW N54. DXD clutches are developed and tested by DXD across many different friction products, pressure plate loads and flywheel designs with one goal in mind, to create clutch systems not only with perfect balance and symmetry but also to perfectly complement engine modifications without compromise in reliability, drivability or enjoyment.
The success of the development efforts has produced a performance clutch product line of the highest quality and performance available for Porsche, Audi and Volkswagen vehicles, DXD Racing clutches.
Each clutch system is specially matched to specific driving styles, uses and power levels to insure the needs of each client are accomplished. Often times, a compromise between drivability and pedal feel must be made to achieve power handling. If you are drag racing you will have different requirements for clutch operation than someone who wishes to participate in daily spirited driving or endurance racing.
Each DXD Racing clutch is offered in either a Daily, Endurance or Drag configuration to accomplish the power handling needed for your car.
Daily
The Daily configuration is focused around an OEM pedal feel and initial engagement characteristics. This is the clutch that wont give you a significantly stronger left leg but will provide many thousands of miles of ease of use and operation with the ability to transfer different Stages of engine performance to the tires. The quick engagement of most aftermarket clutches or the "grab" is greatly reduced and in most cases completely eliminated to allow for smooth clutch release and easy initial acceleration.
Endurance
The Endurance configuration focuses on reduced transmission wear and perfect transitions from gear to gear. Kevlar and other more exotic materials are used to hold the power for many hours of abuse and torsion springs are used to damper between the engine and gearbox. Pedal feel is typically only slightly more rigid and initial engagement is certainly manageable resulting in a driveline component that quite handily eliminates any concerns from the Drivers and Crew Chief.
Drag
In no other form of racing are tenths and hundredths of a second more important nor is a vehicles driveline more abused in such a short period of time. It is with this understanding that DXD Racing has developed a line of clutches specific to the needs of this ever demanding sport. Pedal travel is reduced allowing for quicker launches off the tree and initial engagement is as rapid as possible getting all of the power to the ground instantaneously. Use of puck style discs and SFI approved Race Covers provide plenty of power handling capability and aids in the perfect pass everytime.
"Drag" clutches are puck style discs
The DXD Racing Stage 2 Clutch Upgrade is perfect for those who modified their engines to Stage 2 and Stage 2+ power levels. Offered in specific configurations of Daily, Endurance or Drag, the DXD Stage 2 is perfectly matched to your driving style and your specific use. Each Stage 2 Clutch is engineered to specifically support engine modification with increased clamp load and different material choices across the individual Stage 2 configurations.
Stage II Daily
This Heavy Duty Pressure Plate has an increased clamp load with little or no increase in pedal pressure. The Organic disc material has a high metal content that increases the co-efficient of friction by two times over a stock lining and increases rotational strength up to a 12,000 RPM burst point. This clutch system maintains a stock feel while offering strength and durability. Recommended usage is daily, street and moderate race.
Stage II Drag
This system features a Heavy Duty Pressure Plate modified for a puck style disc with no cushion between the linings to keep the clutch pedal travel short and quick. The puck design disc reduces rotational mass and total drive surface area while increasing pounds per square inch on the surface of the friction material. This combination minimizes inertia, accelerating the transfer of torque from the engine to the wheels. The friction material used for this race application is Graphite Impregnated Ceramic. This compound exceeded all other friction materials when testing for durability, reduced chatter, reduced heat transfer and an increase in torque capacity. Recommended uses are drag racing, drifting and limited street.
These performance clutches deliver more transmittable torque and stability, longer life and superior thermal resistance. They also deliver noticeably better dynamics through higher clamp load when driving the vehicle to its limits.

Stage III Daily
This clutch package is designed for high HP vehicles desiring a start performance similar to O.E. The pressure plate is Race Engineered (SS) and SFI approved with significant load increase over stage 1 or 2 pressure plates (+600-800 lbs.). Expect a pedal effort increase of 20%-25%. Discs are assembled with heat-treated wear resistant hubs; drive plates and springs for high load transfer and dependable operation. The sprung centers on the disc, in conjunction with the marcel fin between the linings, create a dual dampening effect that simulates O.E. start performance. A Performance Organic friction material with a high metal content increases torque and RPM capability and maintains low operating temperatures reducing wear and glazing. Recommended usages are daily, spirited street and occasional track.
Stage III Endurance
This kit uses the same Race Engineered SFI approved pressure plate as the Stage 3 Daily upgrade. The disc is designed for the special needs of a vehicle with circuit racing in mind. Kevlar friction material is used for its unique static to dynamic ratios of friction co-efficients at high energy levels. This translates to a perfect transition from one gear to the next. Discs are assembled with only performance components and equipped with torsion springs functioning as a damper between engine and gearbox. Recommend usages are Rally, Endurance Race, Clubsport, Autocross, Street and Daily.
Flywheel Features
Flywheels manufactured by DXD are made from low carbon, hot rolled steel that is highly resistant to warping and perfectly suited for the friction materials mated to them. Single mount CNC machining guarantees precise tolerances and perfect balance exceeding O.E. specifications. Extensive field-testing has been done to determine the proper weight for each specific vehicle and to ensure smooth operation, safety and durability under extreme operating conditions.
How is shipping calculated?
Shipping cost is based on weight and size. Just add products to your cart and use the shipping estimate tool before checkout to see the shipping costs to your address!
What is your return policy?
We do accept returns. Please email us at info@broxtuning.ca to submit your request. Items sent to us without submitting a request will not be accepted.
We have a 14-day return policy, which means you have 14 days after receiving your item to request a return. Customer service is absolutely at the top of our values here at Brox Tuning and we try our best to make the return process painless for our customers. If you need more info please click here for our detailed return policy.

When will my order ship?
Once an order is placed, if the item is in stock we will have it shipped out within 2 business days. Out of stock items will need 1-2 weeks to be shipped. Please email us if you have any questions regarding items in stock at info@broxtuning.ca

Do you ship worldwide?
We can ship worldwide. If you are outside of Canada or USA, please contact us
If you are local to our physical location you have the ability to choose the "local pick up" option at checkout! This means you can come and get your items once they are available for pick up avoiding shipping costs. In stock items are usually ready within 1-3 hours. Out of stock items will need 1-2 weeks. Get in touch with us if you have questions about stock levels at sales@broxtuning.ca or call us at 416 798-BROX