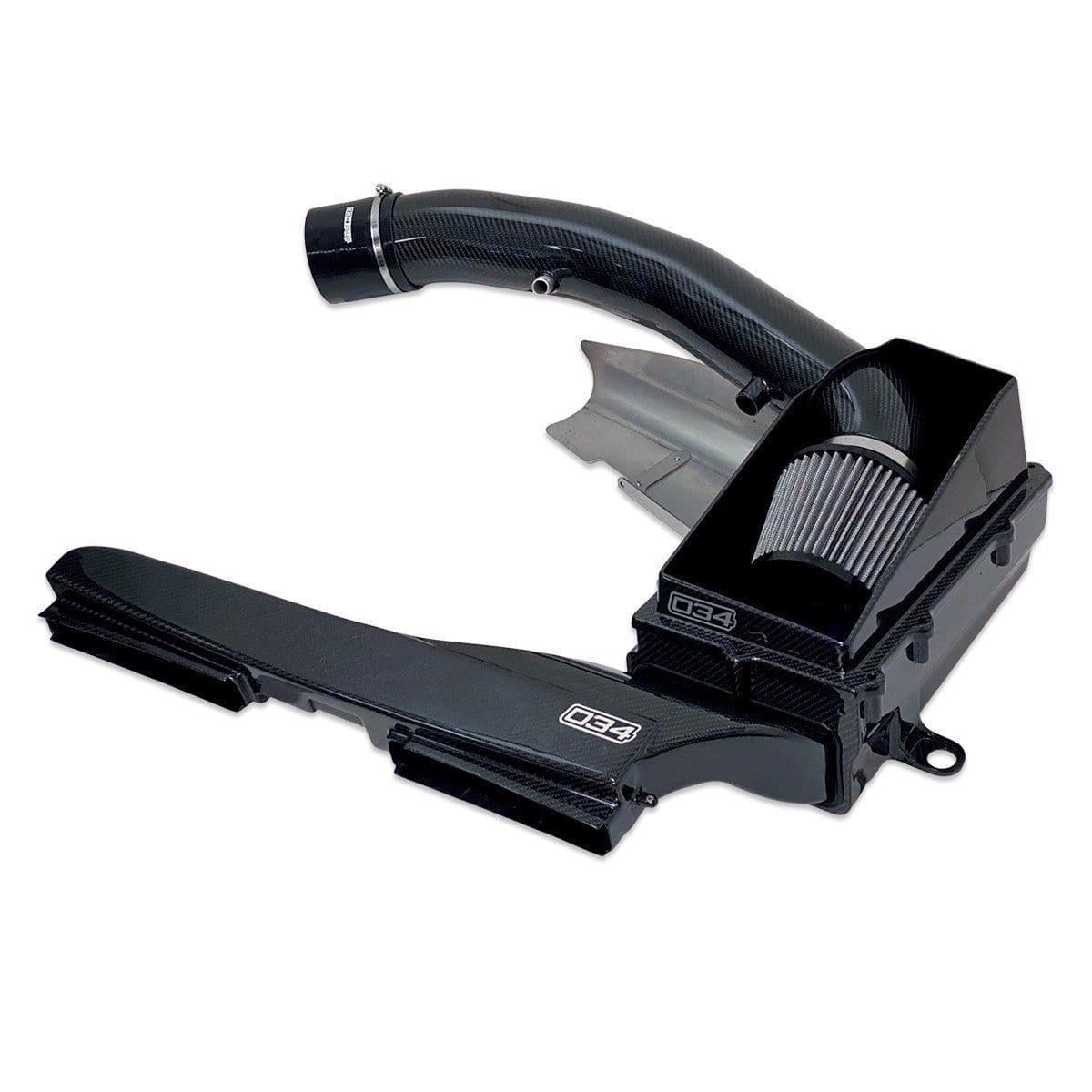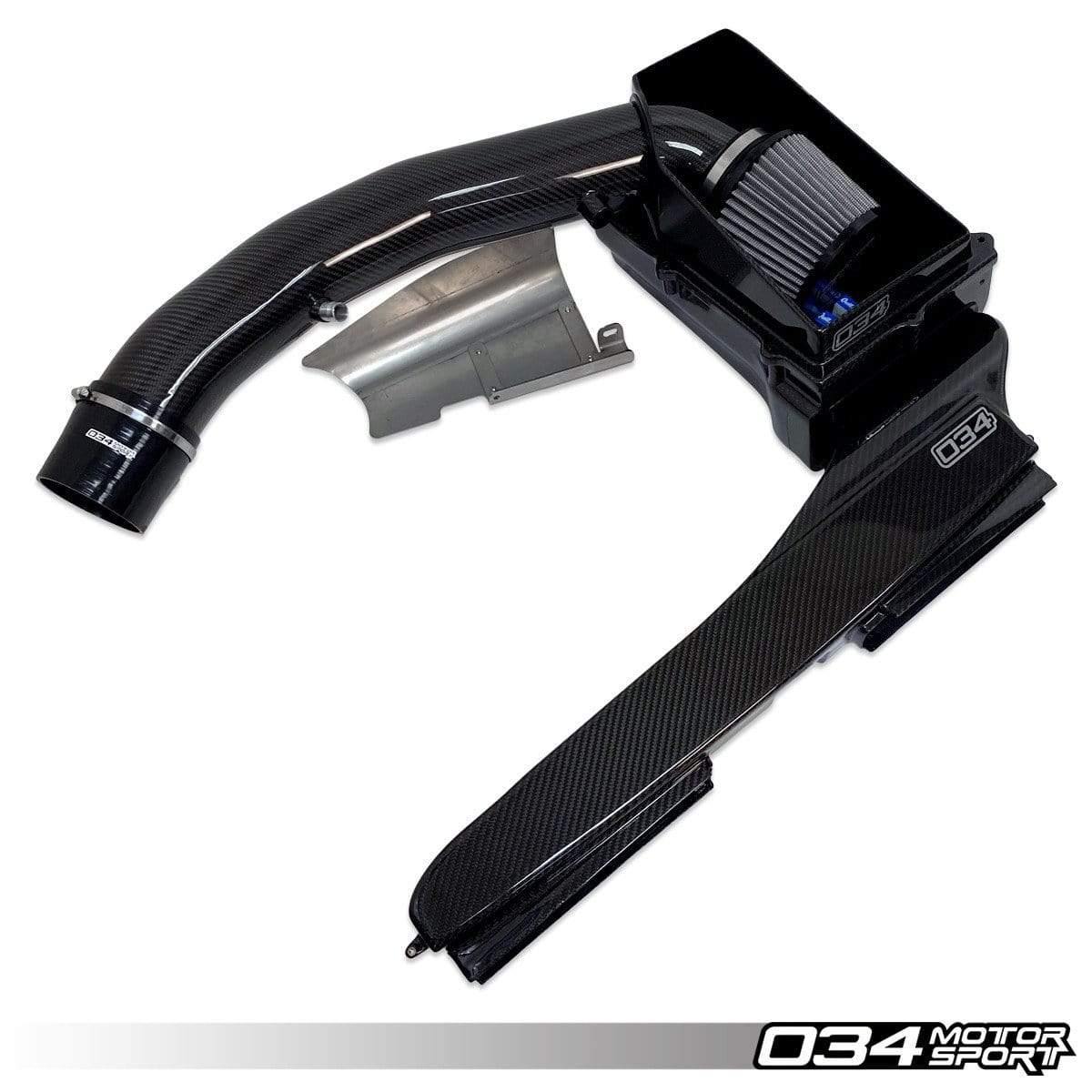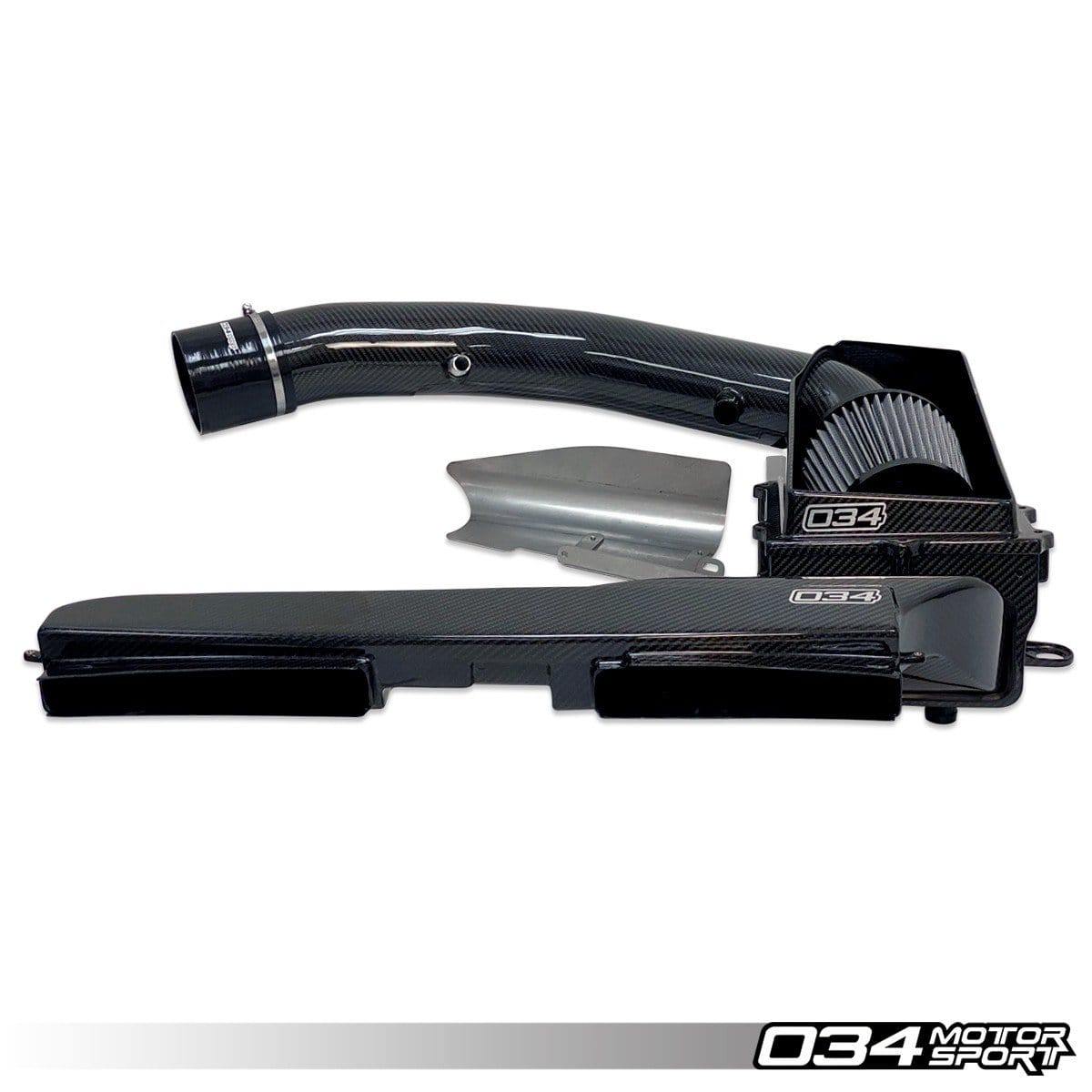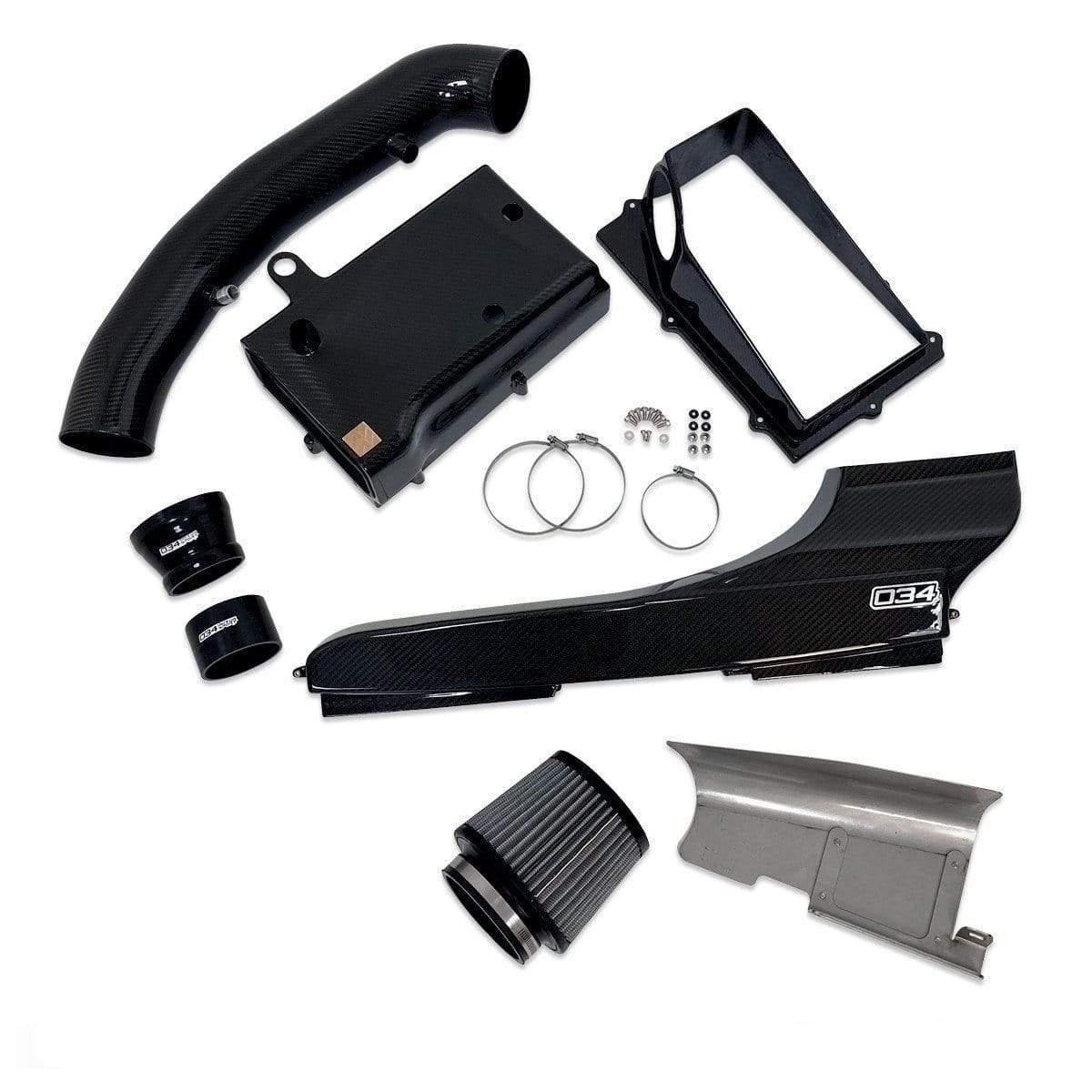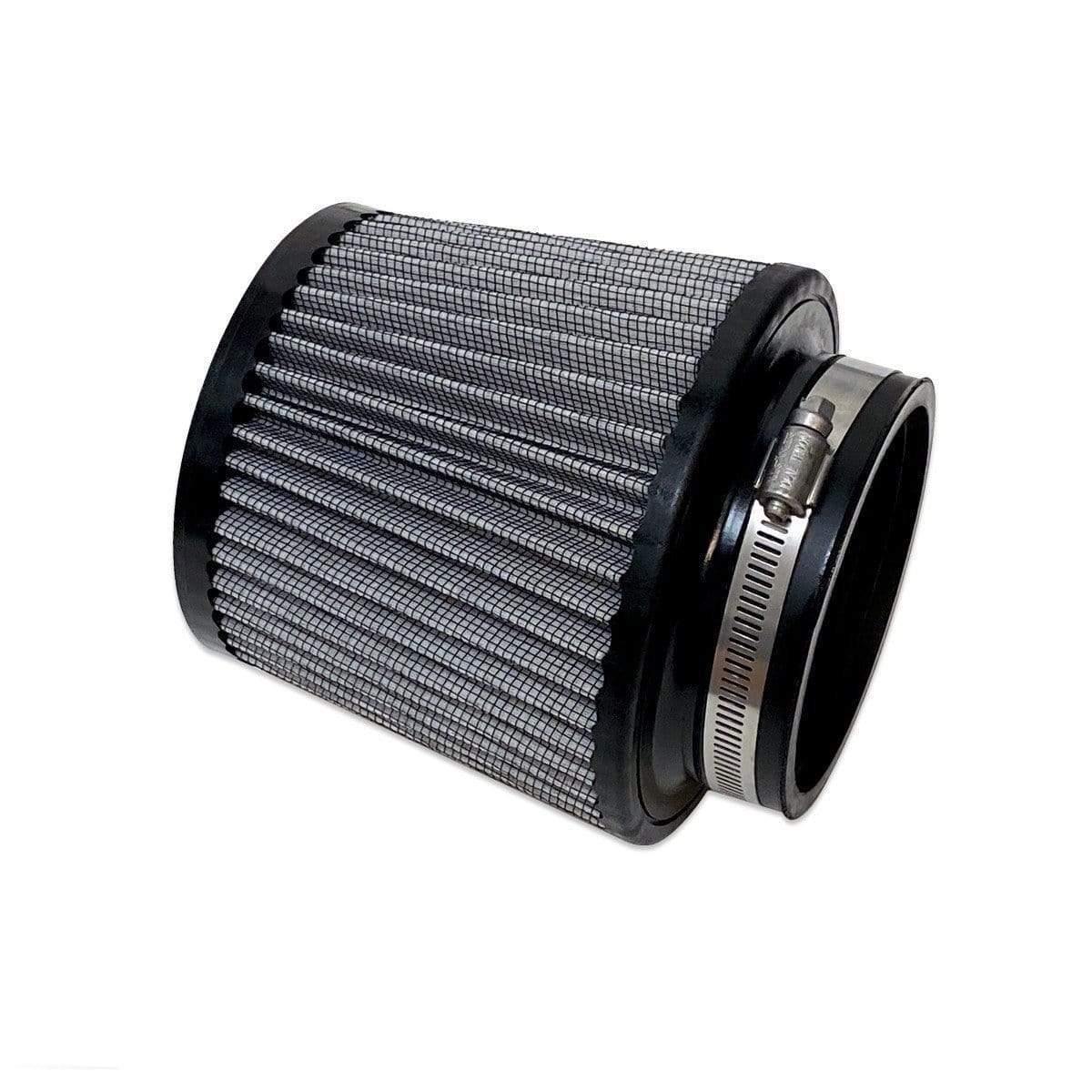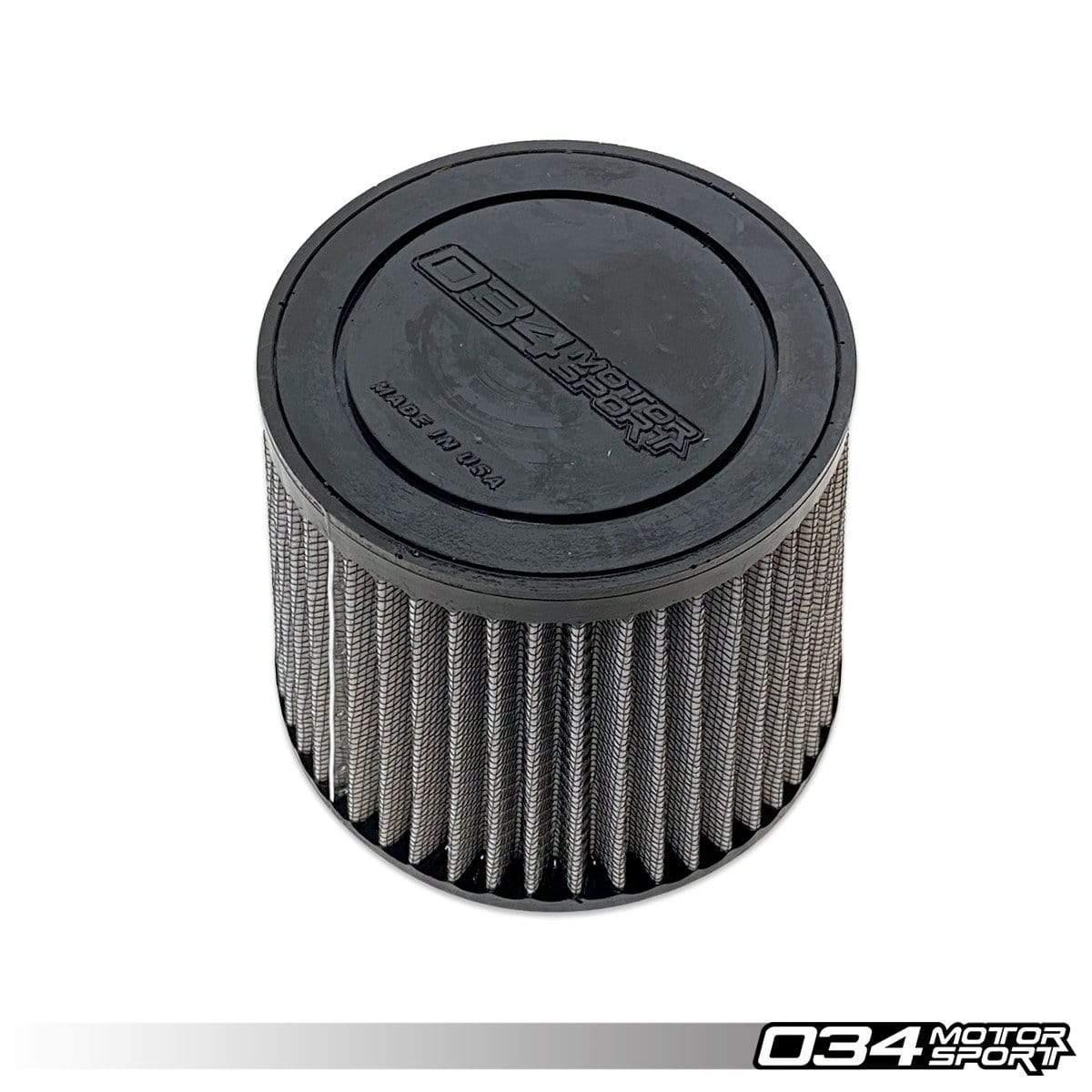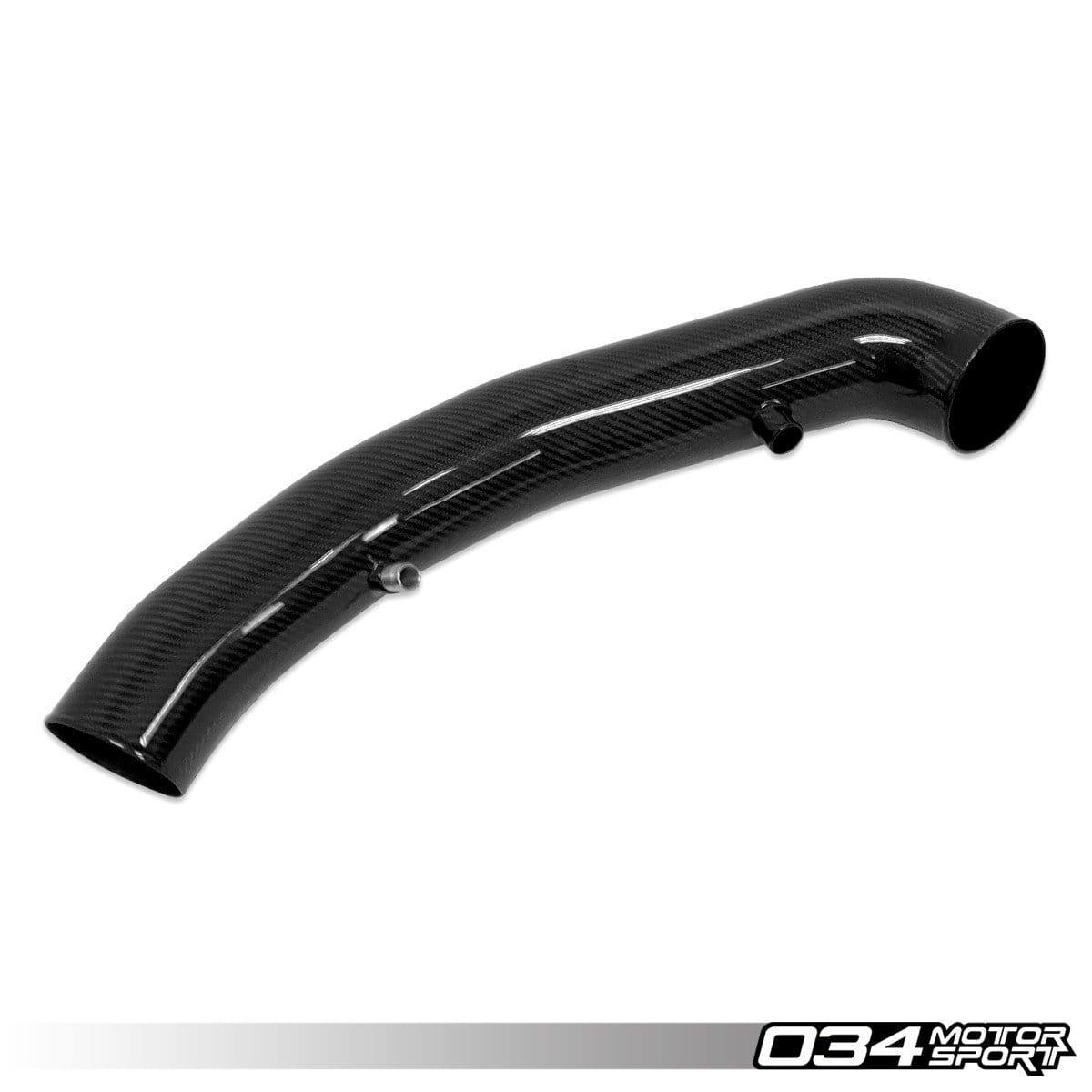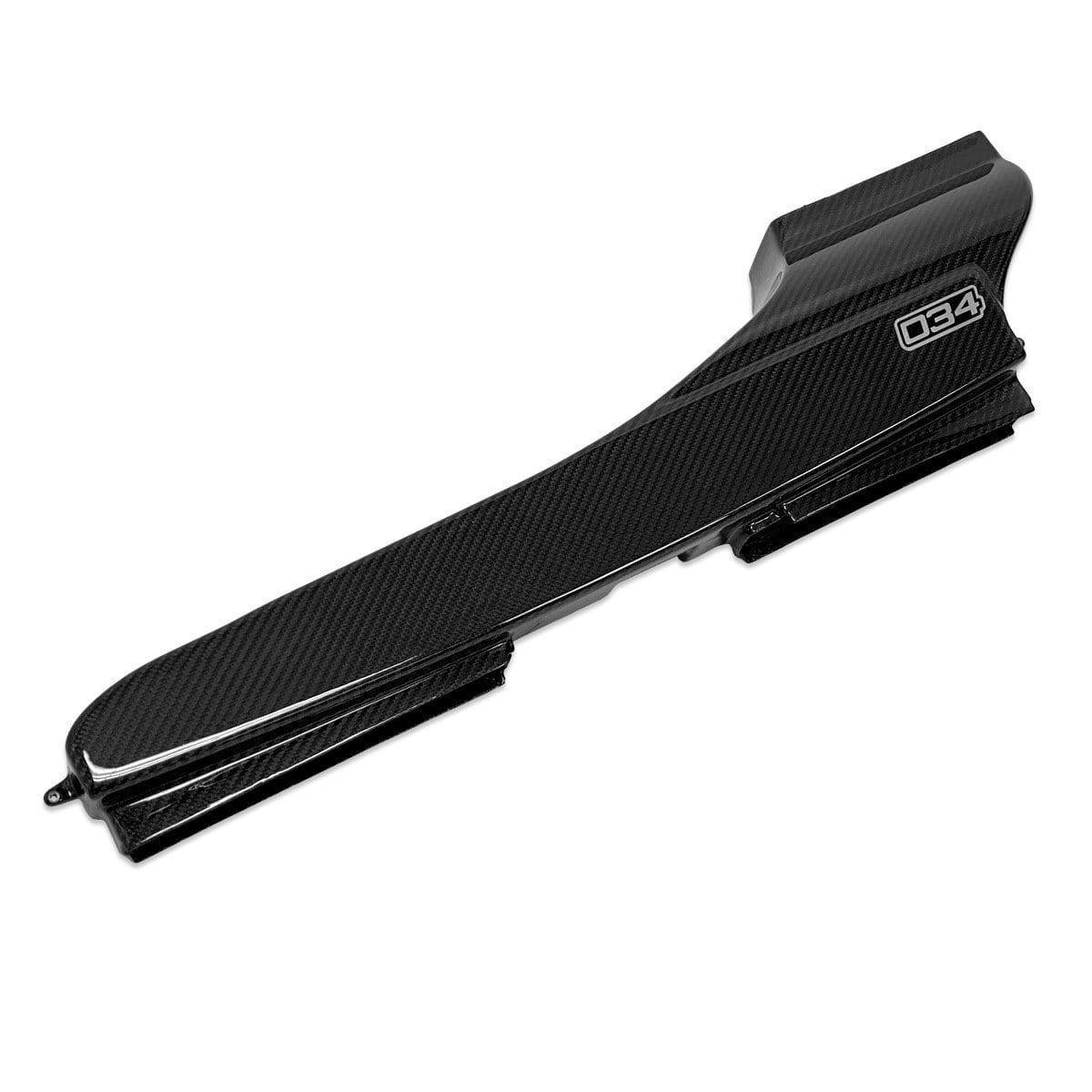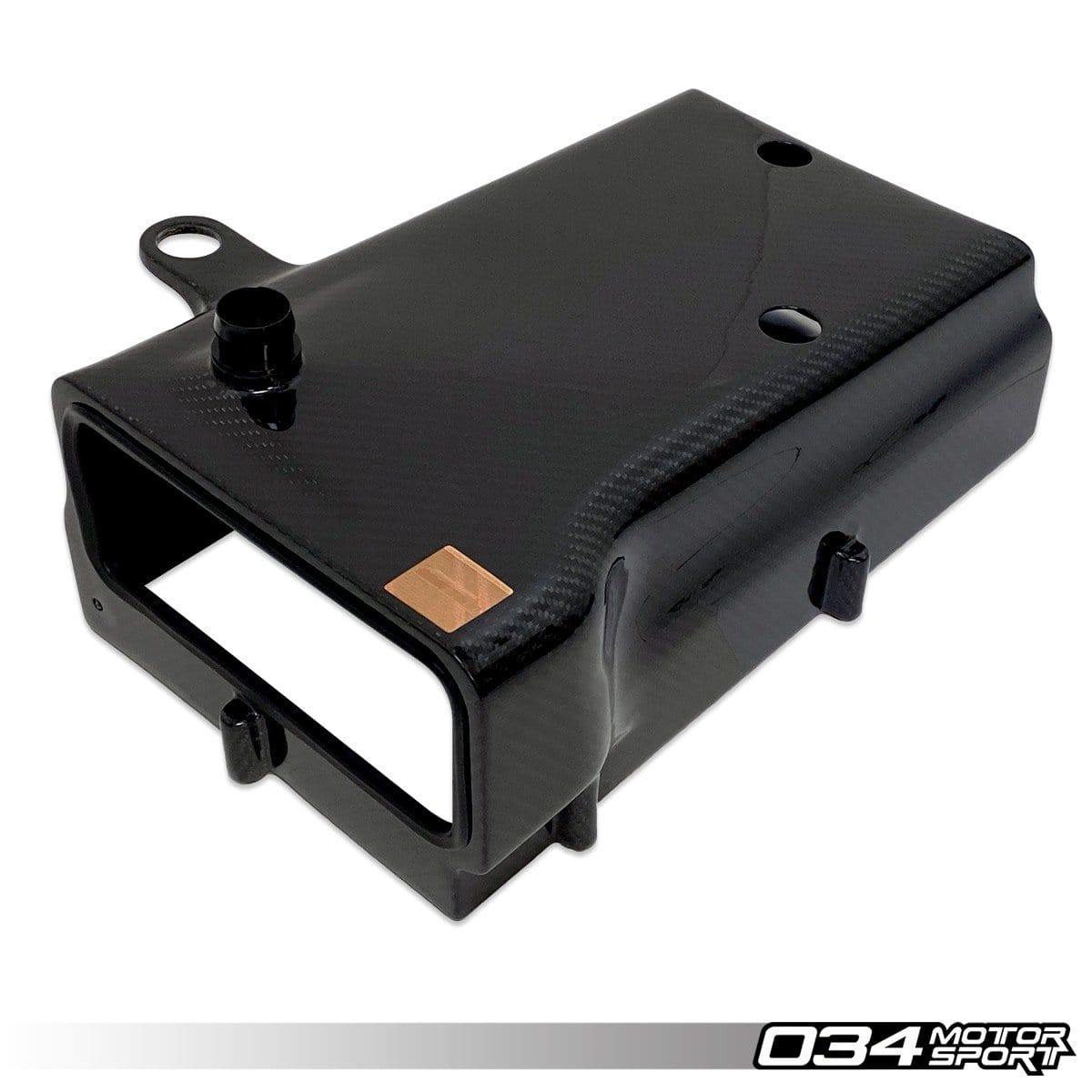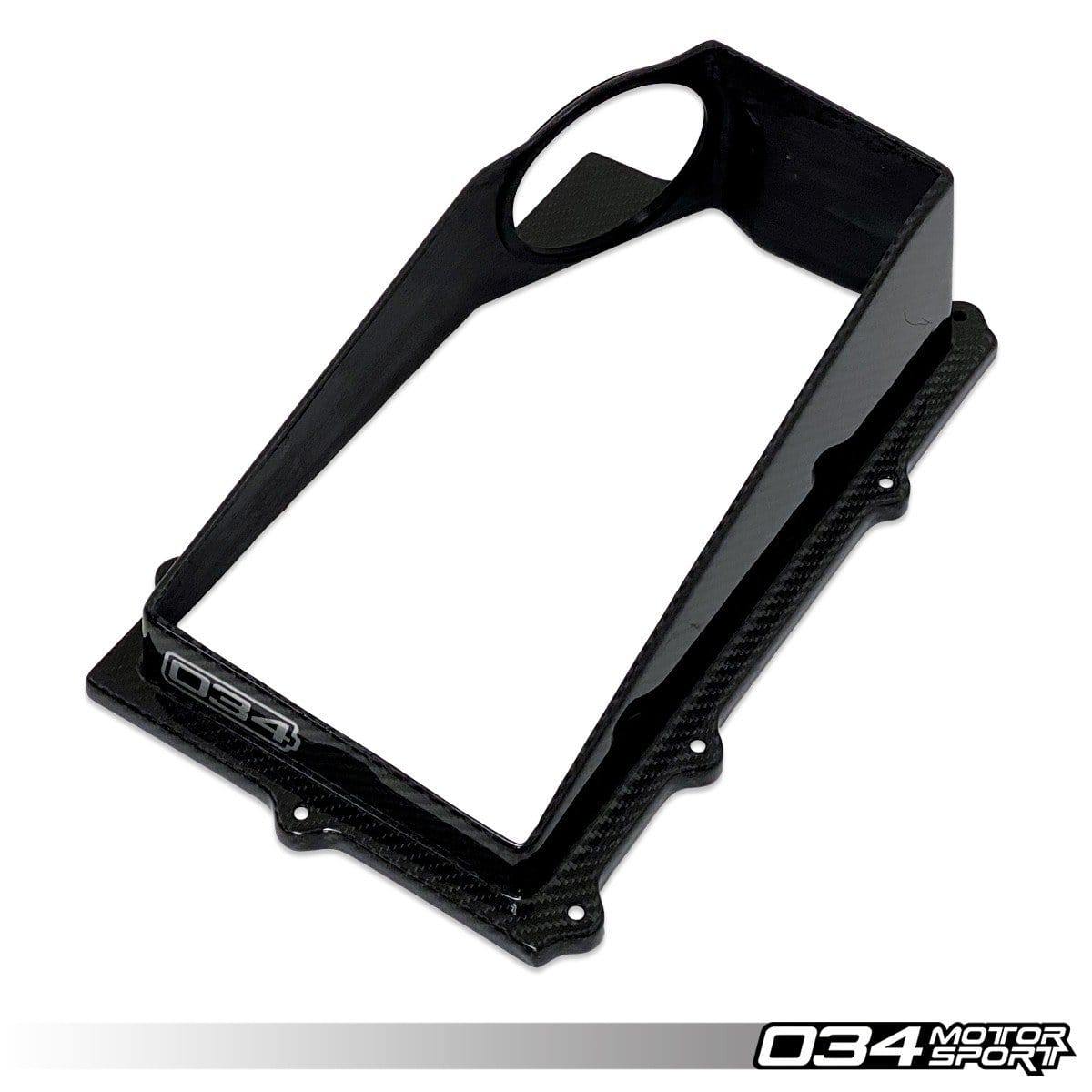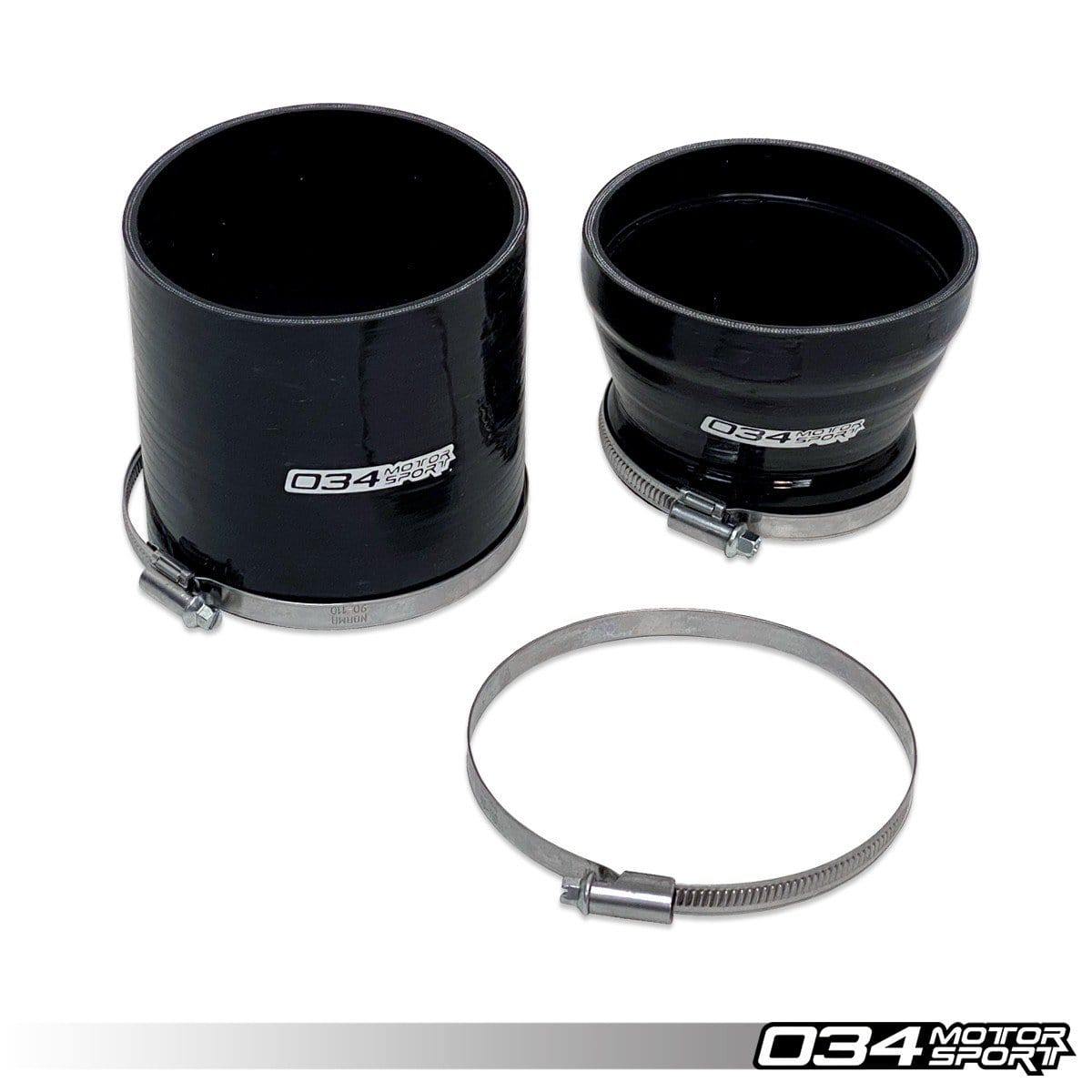 034 Carbon Fiber Open-Top 4" Intake Bundle | Audi TTRS | Audi RS3 2.5 TFSI EVO
Sale price
$1,131.00
Regular price
$1,084.00

Product description
Shipping & Return
Local Pick Up
Are you ready for the best performing DAZA intake on the market? The X34 Carbon Fiber Audi 8S TTRS and 8V.5 RS3 4" Open-Top Intake Bundle for the 2.5 TFSI EVO is a combination of our X34 Carbon Fiber Open-Top Cold Air Intake and the X34 Carbon Fiber Fresh Air Duct and Lower Airbox packaged together.

This intake offers horsepower and torque gains throughout the powerband, with peak gains of up to 33 crank horsepower and 36 ft-lbs of torque on stock turbo tunes with 4" inlets.

034Motorsport engineers worked intelligently to develop a complete cold air intake solution for the TTRS and RS3 that yields horsepower and torque gains over the well-designed factory airbox, ultimately resulting in this beautifully-manufactured Carbon Fiber Open-Top Cold Air Intake System.
034Motorsport is pleased to present our X34 Carbon Fiber Open-Top Intake Bundle for the 2.5 TFSI EVO engine found in the 8S Audi TTRS and 8V.5 Audi RS3!
034Motorsport's engineers underwent an extensive effort to develop a complete cold air intake solution for the TTRS and RS3 that yields airflow and pressure drop gains over the well-designed factory airbox, which can lead to higher horsepower and torque gains in applications that require higher airflow, like upgraded turbos. During the development process, many iterations were designed, prototyped, and tested, which resulted in this beautifully-manufactured Carbon Fiber Cold Air Intake System that flows better than no intake at all.
MAXIMIZING AIRFLOW
034Motorsport engineers first created a CFD-optimized carbon fiber intake tube, which is a direct, high-performance replacement for the plastic factory accordion hose. Using CAD software and 3D scanning technology, 034Motorsport was able to optimize the cross-sectional area of the intake tube while being mindful of space constraints. The resulting part is a functional work of art - maximizing performance given the factory space constraints and featuring smooth transitions that ensure optimal airflow to the turbo inlet.
MINIMIZING UNNECESSARY FILTER SHROUDING
034Motorsport focuses on optimizing every aspect of the intake system across a broad range of variables and compromises. A critical component of a high-flowing performance intake is the ability for air to flow around and into the filter. If the air cannot flow freely around the filter, it will be restricted from getting into it. Many aftermarket kits fit too large of a filter in an enclosure that cannot accommodate its size, thus choking the filter and reducing its overall flow. This often happens when a product is engineered for one variable at the expense of others. 034Motorsport conducted extensive tests and refined its development of the intake design to allow for maximum airflow surrounding the air filter, allowing for optimal airflow to, and through, the filter. The final result is the right size filter in the right size filter housing, creating maximum airflow and performance with OEM level filtering; the ultimate goal of any intake system. Be cautious of any intake that brags only of air filter size, without taking into account the detrimental effects of shrouding the filter.
4" DIAMETER FOR MAXIMUM PERFORMANCE
034Motorsport engineers identified a serious bottleneck in the factory intake system. The factory, 2.8" turbo inlet size, which necks down even smaller throughout the unit, is by far the largest restriction in the intake system after a performance filter system is installed. Many aftermarket companies, including 034Motorsport, have solved this issue by increasing the turbo inlet diameter, thus warranting an intake that supports the added flow gain. The 4" diameter intake kit is designed to support upgraded 4" turbo inlets that can be used on factory, hybrid, and full frame turbochargers. It has been validated that this intake works with the majority of aftermarket inlet options, but has been optimized to work with the upcoming 034Motorsport 4" turbo inlet.
MINIMIZING INTAKE AIR TEMPERATURE
To ensure that the 034Motorsport X34 Open-Top Cold Air Intake System draws in cool, dense air, the system includes a open-top upper airbox to replace the upper airbox as well as a stainless steel heat shield to block heat from saturating the intake tube. This kit uses our intake duct and lower box allowing the high-flow conical filter to breathe cold air from before the radiator. The stainless steel heat shield bolts to the stock intake tube mounting point and to the back of the head, preventing the high temperatures from the exhaust header and turbo from radiating directly at the intake tube. Both heat shields work together to minimize pre-turbo intake air temperature.
PERFORMANCE AIR FILTER
The 034Motorsport Carbon Fiber Open-Top Cold Air Intake system houses a high-flow conical air filter with double-layer pleated cotton filtration medium. This air filter design offers increased flow through an enlarged filtration surface, while ensuring superior filtration. We have tested this air filter in applications over 800HP with minimal restriction, and superior OEM quality air filtration.
OEM+ FIT & FINISH
034Motorsport carefully selected the carbon fiber weave on the intake tube, upper airbox, heat shield, intake duct and lower airbox to match the factory carbon fiber engine trim found in the Audi TTRS & RS3 2.5 TFSI engine bay. The 034Motorsport Audi TTRS & RS3 X34 Carbon Fiber Open-Top Intake Bundle Cold Air Intake System was designed to fit like a factory part, and mates directly using factory provisions to provide an OEM+ look.
DESIGNED FOR MORE
While the testing above has verified the substantial power gains that this intake kit provides for stock turbo equipped vehicles, 034Motorsport designed the X34 4" intake systems to also support much larger hybrid and full frame turbocharger systems. With the help of independent customers and tuners, 034Motorsport has verified that the 4" intake system is more than capable of supporting 800+whp builds, with no restrictions measured or observed in data logging and Dyno testing.
X34 CARBON FIBER FRESH AIR DUCT AND LOWER AIRBOX PRESSURE DROP IMPROVEMENTS
Pressure Drop is the difference in ambient air pressure and the air pressure measured at the turbo inlet across the engine's rpm range. The higher the pressure drop at any given rpm, the more restrictive the intake system is, reducing airflow.
| Intake Configuration | Chart Color | Pressure Drop |
| --- | --- | --- |
| X34 4" Open Top CAI w/ X34 Lower Airbox and Fresh Air Duct | Yellow | -0.64 psi |
| Stock Intake | White | -1.19 psi |
DYNO-VERIFIED WHEEL HORSEPOWER & TORQUE GAINS
034Motorsport's engineering and development efforts were validated on multiple vehicles using our Mustang AWD Dynamometer to ensure that the 034Motorsport Audi TTRS & RS3 4" Open-Top Cold Air Intake System provided substantial increases in horsepower and torque on both stock turbo vehicles and ones with upgraded turbo kits alike.
PEAK WHEEL HORSEPOWER & TORQUE WITH STAGE 2 E85
Stock Intake w/4" inlet: 488 WHP / 459 WTQ
034 X34 4" Intake w/4" inlet: 509 WHP / 480 WTQ
Peak Crank Gains: 33 HP / 36 TQ
PRODUCT FEATURES & DETAILS
Fits both right hand drive and left hand drive configurations
High-Quality Carbon Fiber Construction
High Gloss Epoxy Finish
OEM+ Fit & Finish
Dyno-Proven Horsepower & Torque Gains
Increased Engine & Induction Sounds
Improved Throttle Response
Large-Diameter CFD-Optimized Air Intake Tube
Improved Airflow from Factory Airbox & Intake Tube
Reduced Intake Air Temperature
High Performance Pleated Cotton Air Filter
Full 4" intake tube for upgraded turbo inlets
Includes two high temp silicone couplers to accommodate OE size turbo inlets, or aftermarket 4" inlets
WHAT'S INCLUDED:
X34 Carbon Fiber Fresh Air Duct
X34 Carbon Fiber Lower Airbox
X34 Carbon Fiber Open-Top Upper Airbox
X34 Carbon Fiber 4" Air Intake Tube
034Motorsport Double-Layer Pleated Air Filter
034Motorsport Stainless Steel Heat Shield
034Motorsport Silicone Coupler
Installation Hardware
EARLY NON-US 8V.5 FITMENT NOTE
Please note that very early non-US 8V.5 Audi RS3's come with a heat shield that is not compatible with the 034Motorsport Auxiliary Heat Shield supplied with this intake kit.
The newer style OE heat shield can be purchased from an Audi dealer for under $100 USD. The OE part number is 07K 129 597 G. Once installed, the 034Motorsport Auxiliary Heat Shield can also be installed.
The older style OE heat shield that is not compatible is shown in the photo below.
EMISSIONS DISCLAIMER
This product is sold for racing use as well as use on vehicles not registered for on highway use.
By purchasing this product, you understand that this product is sold for racing use as well as used on vehicles not registered for on highway use, and that it is not legal for use on highway or street vehicles.
How is shipping calculated?
Shipping cost is based on weight and size. Just add products to your cart and use the shipping estimate tool before checkout to see the shipping costs to your address!
What is your return policy?
We do accept returns. Please email us at info@broxtuning.ca to submit your request. Items sent to us without submitting a request will not be accepted.
We have a 14-day return policy, which means you have 14 days after receiving your item to request a return. Customer service is absolutely at the top of our values here at Brox Tuning and we try our best to make the return process painless for our customers. If you need more info please click here for our detailed return policy.

When will my order ship?
Once an order is placed, if the item is in stock we will have it shipped out within 2 business days. Out of stock items will need 1-2 weeks to be shipped. Please email us if you have any questions regarding items in stock at info@broxtuning.ca

Do you ship worldwide?
We can ship worldwide. If you are outside of Canada or USA, please contact us
If you are local to our physical location you have the ability to choose the "local pick up" option at checkout! This means you can come and get your items once they are available for pick up avoiding shipping costs. In stock items are usually ready within 1-3 hours. Out of stock items will need 1-2 weeks. Get in touch with us if you have questions about stock levels at sales@broxtuning.ca or call us at 416 798-BROX